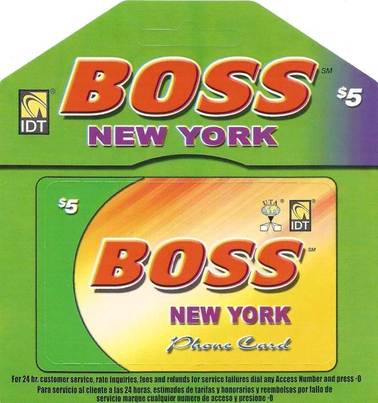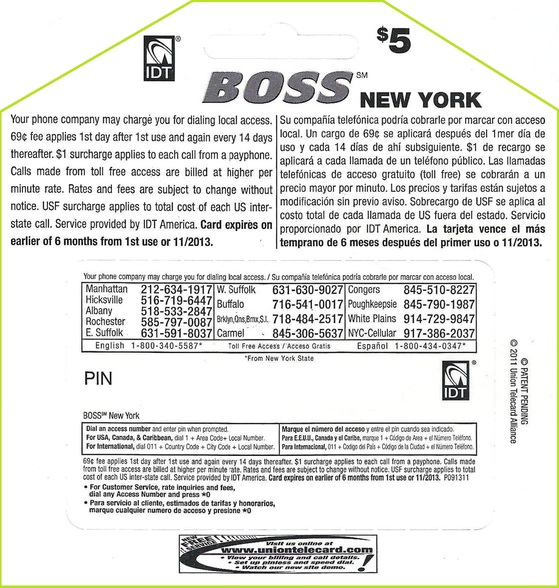 Phone card Boss New York $5.

Access Number NY: (718) 484-2517.
Location – US and Canada Toll Free Access Number: (800) 499-2617– English , (800) 340-5587 –English.
Works from New York State Only! (800) 499-2807–Spanish, (800) 276-3956–Russian, (800) 887-1921-French, (800) 887-2307–Italian, (800) 887-2429–Korean, (800) 909-5547–Polish, (800) 274-9875–Arabic, (800) 795-2892–Turkish.
Call Middle East
Call Egypt at 5.8¢/min
Call Lebanon at 4.2¢/min
Call Morocco at 5.6¢/min
Call Saudi Arabia at 2.5¢/min
Call Iraq at 2.5¢/min
Call Africa
Call Botswana at 1.8¢/min
Call Nigeria at 2.0¢/min
Call Zimbabwe at 2.2¢/min
Honduras at 8.2¢/min  Philippines at 5.3¢/min  Nepal at 7.1¢/min Sri Lanka at 4.5¢/min  Mexico at 0.8¢/min
You will get your new pin code (PIN) 24/7 on your PayPal email address within few minutes after the payment. If you haven't received an e-mail with a PIN, please check your SPAM-folder.